Become a supporter - sign up here!
Keep up with what we are doing and thinking.
Sign up here and we'll add you to our eNewsletter too. Follow us on Facebook and Twitter! Maybe even give a donation!
Australia's wealthiest 1% own more than the bottom 70%
Policies for the Dick Smith Fair Go Group:
An economy that benefits everyone – just not the 1%
"From young people who are worried about getting a permanent career, to old people who are worried about paying for the electricity bill and whether their grandkids will ever have a job, become a supporter of the Dick Smith Fair Go Group.
Yes, take a risk!  Put your name down today.  We can really do something fantastic for Australia. Also give a donation so we can communicate further these important issues."
Dick Smith
Dick's Videos
Dick Smith asks Professor Peter McDonald of ANU to stop undermining him and the rest of Australia in relation to the population issue
Read More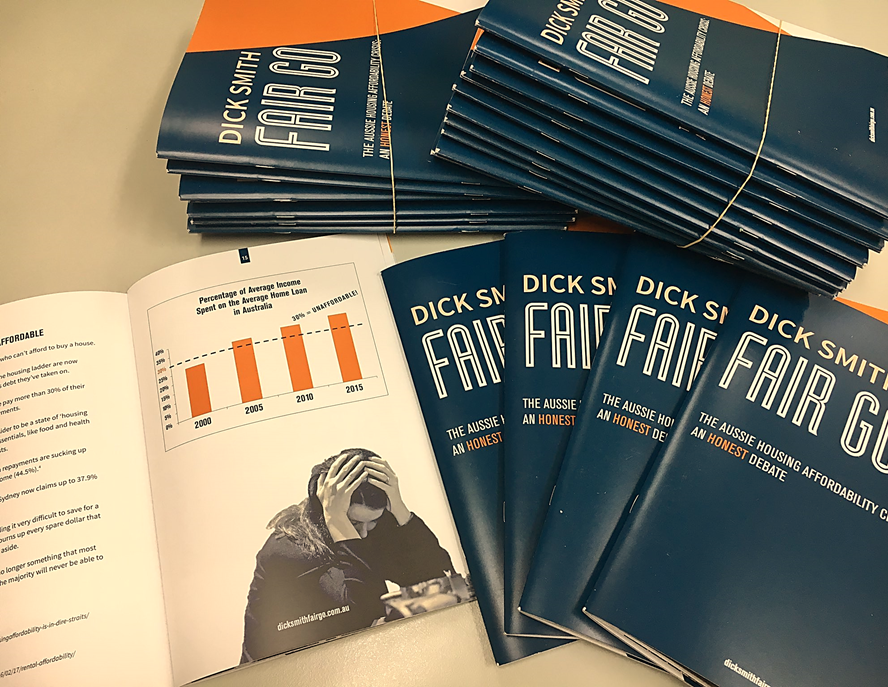 Dick Smith Fair Go Housing Affordability Book
"Sixty-four pages, eighteen graphs and bar charts (many not seen before), crammed with practical, sensible information. It tells the story of the housing affordability crisis at it is." Download the Dick Smith Fair Go Housing Affordability book now!
Our Articles...
9 August 2017 By Dr Haydn Washington for Dick Smith Fair Go. The world is faced with a predicament of grave enormity – yet one rarely spoken of. The United Nations (UN), almost all governments, business, and media and both the political Left and the Right are busy extolling (even praising) 'endless growth'. Yet we … Read More
Read More
What we are sharing...
9 August 2017 Robbie Patterson for The Manly Daily MILLIONAIRE businessman Dick Smith has taken aim at his own generation, saying its greed has crippled young people's ability to own their first home. He launched a scathing attack on Australia's politicians, accusing them of being too scared to make tax changes that would be unpopular … Read More
Read More
8 August 2017 By Judith Sloan for The Australian. I have spent most of my life living in Melbourne. I was born and raised there. I have lived elsewhere, but have made Melbourne my home for at least part of the year, for more than a decade. Take it from me, Melbourne is in the … Read More
Read More
What do you think about the ads I'm about to run in the paper to help promote the Dick Smith Fair Go group? Your donations to the group help to pay for them. Any suggestions? Note: the TV ads referred to in the second ad will be run from August 15th.
Read More
Donate!
Help fund the Dick Smith Fair Go group's research and campaigning with a donation! All contributions will be matched from Dick's own pocket!